A Perspective: "Just because they can't afford to live, we can't let them die" – Dr. Adeeb Rizvi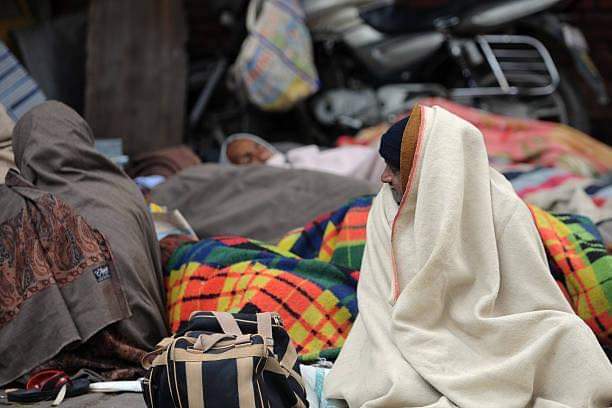 Civil Hospital Karachi, being one of the largest hospitals in the nation, caters requests from all around the Sindh and Balochistan province. One prominent reason is that it falls under the umbrella of "affordability" for many. As a government-administered territory, most of the healthcare facilities are free here. In a country where poverty is still prevalent to the extent of 24.3%, it would not be a surprise to assume that people over here cannot afford basic life aids, let alone physical well-being; hence this remains the only choice for many.
But this "free-of-cost" facility comes at an immense loss to them, which may not be monetary, still holds a significant place, at least in their lives. The first is the non-stop travel from around the interior to the hospital, staying over here since they do not have anywhere to go, and then not getting something as basic as accommodation till their patients' checkup is going on.
Of course, the first reaction to it will be accommodation is not a hospital's responsibility for anyone out there. Fair enough. That is what I thought the very first time I crossed the corridors of Civil Hospital. Back at that time, I decided to make Civil look like a hospital, with clean corridors, and not a hotel with hues of attendants sitting around on the floors.
Eventually, it took me some time to realize how someone who could not afford basic medicine can afford to rent out hotels around the city? Even more painful was the realization that I could have been at their place. Or maybe you. Who knows? After all, luck gave none of us a chance to choose the lifestyle we want. None of us deserve this. What merely was a stroke of luck should not define us. And it should not impede getting basic life services and the quality of life. Hence, I planned that if there is anything I'd be focusing first on, it would be to help people get accommodations; this, later on, became the motive behind applying for Saaya.
It seemed easy at first. You help people stay somewhere better, pay for their expenses, and do the work. But was it sustainable? And would that have helped everyone equally? The obvious answer was no, and hence SAAYA took the responsibility to figure sustainable ways out.
While working on-grounds and in OPDs every day, we realized accommodation was not the only problem. In a country that stands 187th/192 in healthcare needs so much working and improvement in nearly all aspects, from the provision of equipment, protective gear, infrastructure, beds, to renovations, you name it. Hence Saaya, which was initially being run by seven people, opened calls and built a talented team.
With 1.5 years of its working and a dozen projects already accomplished, it is safe to say that Saaya stuck to the meaning of its name, i.e., Shelter. Shade. Protection. Accommodating all those who deserve the same quality of life. All those who cannot do it for themselves. All those whom the luck did not favor and so we should.